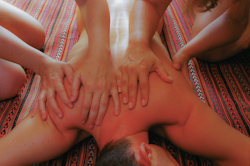 "Where skin gets in contact, miracles may happen"
The effect of our massage rituals is indescribable. They touch and enchant, seduce and relax. The journey into the feeling and sense of one's own body, the perception of scent, sound and human warmth creates an exquisite feeling of security, protection, acceptance, desire and the joy of being alive.
An Anjama-Massage is a feast for the senses.
They infuse in you the ultimate feeling of luxurious comfort, and cause life energy to flow freely and powerfully, harmoniously integrated with sexual energy. It establishes the bodily felt-sense of well-being as the basis of all sensuality.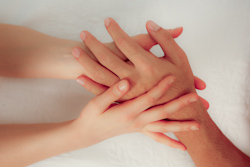 The physical contact in the Tantra Ritual is passive: the masseuse touches, the client experiences. He or she can simply let go and sink into a deep inner experience.
Skillful hands guide the massaged person selflessly step by step, deep into the source of his or her own sensuality. The client learns to freely and fully enjoy the experience of delight. An Anjama-Massage is an experience of sensation and sensuality that is out of the ordinary.
To preclude any misunderstanding, we would like to advise you that our massage is a ritual and not prelude to any mutual agreement. It is not an invitation to sexual acts.